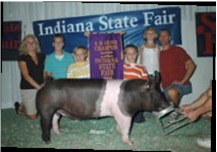 As you look at the roster of championship pigs in Indiana these days, one name crops up again and again—Bennington. Actually, four Bennington names show up in state-wide competition: Cameron, Bryce, Blake and Kayla. But the dynasty started with dad, Kent.
Kent's interest in pigs actually began with 4-H and FFA in high school. He then went on to college, participating in livestock judging teams and eventually deciding to make a career of it. Today, Kent runs Kilmer Swine Farms, a 250-sow operation in Monticello, Indiana owned by Dave and Jim Kilmer. Kilmer Farms produces pigs to show and also sells pigs throughout the United States. The Bennington children are enthusiastically following in their father's footsteps.
"One by one, they've all joined 4-H," says Kent. "They've always shown a strong interest in show pigs and always loved spending time with and being responsible for their own animals." These days, that dedication is being rewarded with a wealth of trophies and blue ribbons.
Cameron, 13, showed the North American International Grand Champion Market Hog in 2006.
Recently at the 2008 Indiana State Fair, 10-year-old Bryce showed the Champion Chester White, and his Champion Crossbred went on to take Grand Champion Barrow honors.
At the same fair, Bryce's twin brother Blake showed the Chester White Gilt Champion.
This year the Bennington family also produced the Grand Gilt and the Reserve Grand Barrow at their county fair.
Up-and-comer Kayla, 7, has been competing since age four. She has always spent a lot of time working with and helping her brothers, but she is currently having fun raising what could very well be the next champion Bennington pig.
Of course, behind every champion is an unsung hero working behind the scenes. Kent is quick to share credit for their competitive success with his wife. "Kelly doesn't have a lot of hands-on involvement with the pigs," says Kent, "but she's there for a lot of support and a lot of the organizing that goes along with top-level competition. We simply couldn't do what we do without her."
Kent also relies on Purina® Feeds. He uses a number of Honor Show Chow® formulas including Showpig Base, a lot of Show Pig 16, Powerfill® and Honor Show Chow® High Octane® topdresses including Champion Drive™ and Power Fuel™.
"There's definitely a competitive advantage with the topdresses," claims Kent. "You have a lot of flexibility within the Honor Show Chow® line—you can mix and match the topdresses with a complete feed like Show Pig 16. By matching the nutrition to the genetics of the pig, you maximize their genetic potential, and that's how you get winning results."
There's another reason why Kent Bennington says he swears by Purina® Feeds. "Over the past 14 years, I've gotten to know the people who formulate the feeds at Purina, like Dr. Kevin Burgoon, and I have a lot of trust in what they're doing," says Kent. "I'm in a unique situation in that I have people buying pigs from us here at Kilmer Farms, and they're always asking me for feed recommendations. After all the success we've had, I feel confident recommending Purina® Honor Show Chow® feeds."
Source material for this blog article was provided by Purina Mills, Inc. © 2008