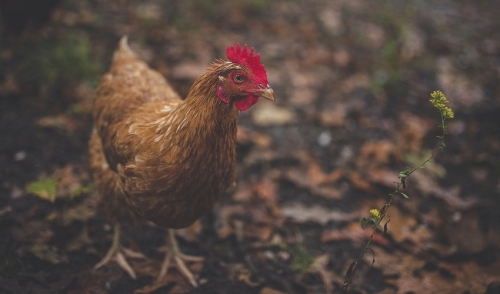 The Filipoff family keeps a flock of about 50 chickens and are, in a way, living a dream come true. Steve Filipoff grew up in Los Angeles, CA and as a boy raised chickens in this unlikely place, in a very tiny yard. He knew then that he wanted to raise and enjoy chickens later in life. He is now living that dream with his family on 10 acres in Colville, WA. Steve, his wife Cindy and their 3 boys Andrew(13), Nicholas (10), and Timothy (6) keep over 10 varieties of chickens, some of which include Sumatras, Speckled Sussexes, Andalusians, Leghorns and Rhode Island Reds.
"Raising chickens is therapeutic," says Cindy. "I find joy in the simple things, and chickens are beautiful and fun to watch. When the world is getting on your nerves, it's relaxing to just sit and watch the chickens!" she says. When people drive by their home, they can see the chickens and the chicken house from the road. "We always have people comment on how nice they look, which I attribute to their feed," says Cindy. "We take really good care of our birds, they are spoiled! Steve built the chickens a very nice house that even has a skylight!" Charlie, a Speckled Sussex rooster, is Cindy's favorite. She loves his color and his demeanor. "He is so gentle. He's good with the kids and very mellow," she laughs.
They feed their chickens Purina Layena® SunFresh® Recipe and also give them Scratch Grains SunFresh® Recipe, but they didn't always feed Purina products. Over the years, they have tried many other feeds. They learned about Layena while at their local Purina Mills feed dealer, Flourmill Feed and Hardware in Colville, WA. Store Manager Colt Brown, who is a firm believer in this product, strongly recommended feeding Layena to their chickens. He said they would notice a big difference in egg quality and in their plumage. They decided to follow his advice and give it a try, and Cindy says that "literally, within a few days we saw a difference in their coloring, they were more vibrant, healthy and more active. We also noticed that the eggs looked bigger! The shells were vibrant too, not dull-looking," she adds. Since then, there were times when they would buy a different brand of feed to save a few dollars, but Cindy says that "we just didn't get the results with other brands." They always found that as soon as they put them back on Layena, within a day or two their colors would come to life. "With Layena, they stand out, like they are in 3-D! Layena is fabulous, it gives them lots of energy, an incredible change in color and very strong egg shells," remarks Cindy. She adds that "when we put Layena out, they come running and they really enjoy eating it. With ot her feeds, they could take it or leave it." Now the Filipoffs choose to feed only Purina SunFresh® Recipe poultry products. The Filipoffs just bought some new baby chicks, which have been started on Start & Grow® SunFresh® Recipe and at 12 days old, are doing great on it. "There is nothing else I would give them," says Cindy.
Steve and Cindy continue to feed Purina poultry products because of the results they see in the appearance of their flock and in the quality of their eggs. As Cindy puts it, "we get so much enjoyment from our chickens, we wouldn't give them anything else."
Purina Mills®_ Start & Grow® SunFresh® Recipe
Fresh sun-grown grains and natural plant proteins provide wholesome nutrition free of animal fats or proteins
Superior nutrition gives chicks a strong start and encourages uniform growth and development
Complete and balanced ration contains everything growing birds need in one feed
Optimum levels of Vitamin E support a strong and well functioning immune system which is key in preventing disease in young birds
Marigold extract provides a natural coloring agent resulting in beautiful coloring of beaks, shanks and overall appearance
Essential amino acids promote excellent muscle development, growth and chick vigor
Source material for this blog article was provided by Purina Mills, Inc. © 2009